Submitted by

Caldon and Utto...

on Mon, 26/03/2018 - 11:39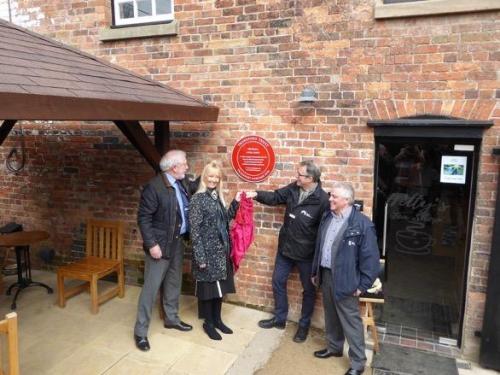 Froghall Wharf was officially recognised as a significant site and awarded a Red Wheel plaque at a ceremony on 20th March, conducted by Richard Parry, Chief Executive of the Canal and River Trust; and Stuart Wilkinson, Chairman of the Transport Trust, assisted by Gerald Leach of the Railway and Canal Historical Society. It describes Froghall as 'A major complex of canal-side wharves and lime kilns fed, since 1778 by a series of railways from the Cauldon Low limestone quarries.'
Stuart Wilkinson, chair of the Transport Trust, said: "The role of the Transport Trust is to raise awareness and appreciation of Britain's unique transport heritage - throughout the country and across all modes of transport. One way we do this is by unveiling bespoke commemorative plaques - which we call 'Red Wheels' - at the sites of greatest importance and supporting these with a comprehensive and informative Transport Trust website.
"The development of our canal network played a key role in the Industrial Revolution and British Empire and heritage sites don't come much better than Froghall and the Churnet Valley - so the Transport Trust is delighted to be working with Canal & River Trust and Hetty's Tea Shop, to draw the public's attention to Froghall."
Emma Atkinson, owner of Hetty's Tea Room, has restored the Grade II-listed former warehouse building and it is now a very popular café, gift shop and holiday accommodation. Richard Parry, chief executive of Canal & River Trust, added: "Emma has done a great job developing Froghall Wharf as an attractive visitor destination. The transformation of the wharf has been amazing. We work hard to make the most of all our unusual canalside buildings. Our aim is to celebrate our rich waterway heritage by supporting sensitive restorations and finding new 21st century uses for these wonderful structures. "We are grateful to the Transport Trust for highlighting the significance of Froghall Wharf and its historical importance in the development of the Churnet Valley and Staffordshire's industrial prosperity. The Red Wheel will be a great permanent reminder to visitors of the area's entrepreneurial past."
Related places: Cauldon Quarry, Froghall Wharf, picnic ground, Hetty's tea room
Walk: Churnet Valley Geotrail
Bloggers that visited this place: Pickle