Submitted by

Catherine

on Sat, 15/09/2018 - 03:18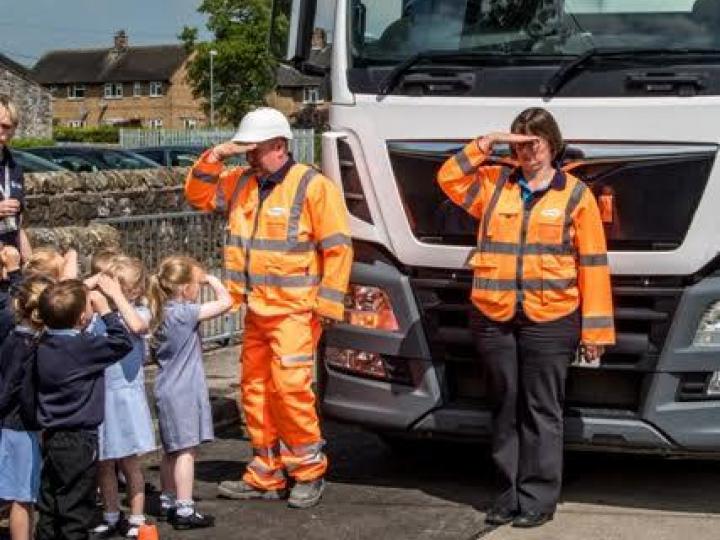 Children from Waterhouses CE Primary Academy were given an insight into road safety when staff from distribution company Wincanton and Lafarge's cement plant in Cauldon visited them to give pupils a better understanding of how to keep safe when walking on local roads.
During Child Safety Week in June all year groups at the school were given the chance to find out from Julian Bray, Driver at Wincanton about road safety when walking near tankers and when crossing roads. Julian showed the children around the tanker and was joined by Jane Walton – Contracts Manager for Wincanton, who explained about blind spots around the vehicle.
"We really wanted to get the message across about the importance of good road safety around tankers in and around Waterhouses and the neighbouring villages," explains Julian Bray from Wincanton. "It is really important that young people understand that if they are located in certain places near any vehicle on the road then they simply cannot be seen by the driver, which could cause a safety issue. It was great to be able to show the school children around the vehicle and explain how they can help to keep themselves safe."
Hannah Clark, environmental co-ordinator and Emma Grindey from the logistics team at Lafarge Cauldon, spoke to the children about the role that the tankers play in transporting cement products from the plant to customers.
Hannah explains: "It is really important that we work closely with local schools to improve their understanding of safety around quarries and distribution vehicles and also road safety awareness generally. Safety is an important part of our culture at Lafarge Cauldon and this means doing whatever we can to protect our local community too."
Cauldon Cement Plant, part of LafargeHolcim, produces approximately 1m tonnes of cement per annum. The plant employs around 150 staff, most of whom live within the local area.
For more information, visit the website www.lafargeholcim.com or call 01538 308 000.