Submitted by

Catherine

on Tue, 14/08/2018 - 14:10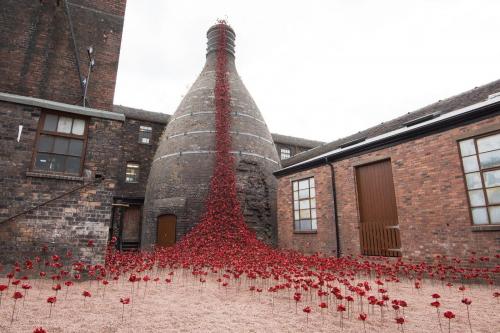 14-18 NOW is presenting the iconic poppy sculptures Wave and Weeping Window by artist Paul Cummins and designer Tom Piper, at selected locations around the UK until 2018. They have already been seen by 4 million people in 16 locations and now the are at Middleport Pottery until 16th September.
Weeping Window is a cascade comprising several thousand handmade ceramic poppies seen pouring from a high window to the ground below; Wave is a sweeping arch of bright red poppy heads suspended on towering stalks. The two sculptures were initially conceived as the key dramatic sculptural elements in the installation Blood Swept Lands and Seas of Red at the Tower of London in the summer and autumn of 2014. Over the course of their time at the Tower, they were gradually surrounded by a vast field of ceramic poppies, each one planted by a volunteer. In their original setting they captured the public imagination and were visited by over 5 million people.
POPPIES: WEEPING WINDOW
BY PAUL CUMMINS ARTIST AND TOM PIPER DESIGNER
2 August - 16 September 2018
FREE -
The event is free but you do have to book your free ticket in advance - see below.
MIDDLEPORT POTTERY, STOKE-ON-TRENT
Middleport Pottery's historic Grade II* listed site was built in 1888 for a well-known local ceramics company, Burgess & Leigh Limited. It has maintained unbroken pottery production since its Victorian inception. In June 2011, The United Kingdom Historic Building Preservation Trust (UKHBPT) stepped in to restore Middleport Pottery after the buildings had fallen into disrepair, and embarked on a £9 million, three-year project to regenerate and revitalise the site. In June 2014, HRH The Prince of Wales opened the refurbished Middleport Pottery, now containing the Burleigh factory, Visitor Centre, Tea Rooms, shop, activity areas and workshops and offices for creative businesses. Today, Middleport Pottery is a thriving, exciting visitor destination, and continues as the last working Victorian pottery in the United Kingdom.
Ticket link - https://www.eventbrite.co.uk/e/14-18-now-weeping-window-stoke-on-trent-t...