Submitted by

Catherine

on Wed, 23/08/2017 - 17:28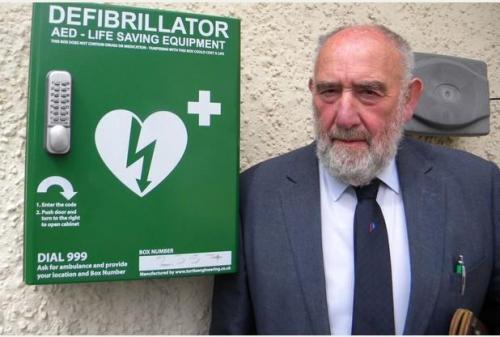 This June desperate Kingsley residents had to use force to open the defibrillator box during an emergency. Sadly, by the time paramedics had arrived, around eight minutes after the original call, nothing could be done to save the life of local resident Kath Jones.
Kingsley Village Hall committee and the WMAS have investigated what went wrong and the case will change the way defibrillators are accessed across the whole of the West Midlands. The issue on this occasion, unknown to those in Kingsley, was that there was an 'activation zone', meaning that the caller needed to be within 200m of the defib cabinet to give an access code that would work. Now the ambulance service is going to extend the activation zone from 200 metres to 500 metres to stop this problem happening again.
Response manager Matt Heward said: "Defibrillators are activated thousands of times in communities. On this occasion the call taker did not know the area and had to manually look for a code as the call was outside the 200 metre zone of the defibrillator cabinet."We are now looking to take the activation point to 500 metres."
Kingsley Village Hall point out that "500 metres gives almost complete coverage to Kingsley and improved for Kingsley Holt. It should be borne in mind that a person will potentially have to cover 1000 metres to get the device which may mean an ambulance being there before them."
Find out more about this story at Kingsley Village Hall (http://kingsleyvillagehall.org.uk/defibrillator-incident-update) and Leek Post & Times (http://www.leek-news.co.uk/changes-set-to-be-made-after-kingsley-emergen...). Picture: Leek Post & Times.