Submitted by

Steve

on Tue, 25/11/2014 - 08:21
Students from a number of local colleges and universities have been volunteering their time to help Staffordshire Wildlife Trust with vital conservation work in the Churnet Valley.
A group of young people from the Sport and Public Services Course at Stoke College are donning work gloves every week this half term to carry out tasks such as rhododendron clearance, clearing scrub from wildflower-rich grasslands and coppicing. These hard working students have already made huge advances towards eradicating invasive rhododendron from a woodland on the side of Rudyard Lake. With the spread of a Phytophthora fungus through British woodlands, which rhododendron can contract and spread, this is a really important job to undertake.
The rhododendron clearance was also aided recently by a group of volunteers from Keele University who took out time from their studies to get stuck in to the task, clearing the shrub from about a hectare of woodland.
Students from Foundation Learning courses at Leek College are getting out onto a number of different nature sites across the valley, not just to help conserve them but also to explore and learn about them. Activities have included woodland management, improving habitats for wading birds at Tittesworth Water and learning how to deliver environmental activities for children. These sessions will be continuing over the whole academic year and the students are working towards achieving the John Muir Award.
Staffordshire University are also getting in on the action with nearly 40 students from the Tourism and Events Course visiting Tittesworth Water last week to help the Trust clear vegetation for a new path that will be opening on the site next year.
Martin Evans, the Trust's Youth Officer said: "It is fantastic to get so many students involved in our activities at this time of year. These young people provide a very welcome boost to the amount of work we can complete. Their efforts will make a big improvement to these sites, both in terms of biodiversity and in visitor experiences."
If any other groups of young people are interested in getting involved in conservation work in the Churnet Valley please contact Martin on 07530 489798 or m.evans@staffs-wildlife.org.uk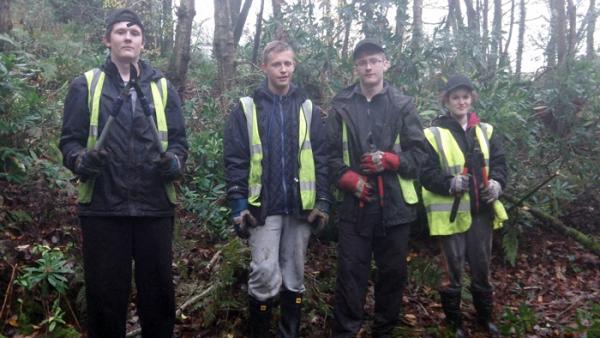 L-R: Nathan Scott (16), Sam Mason (16), Tom Middleton (16) and Caitlin Kamelski (17).