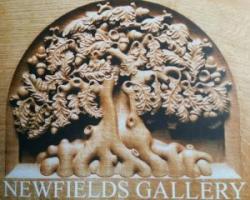 Newfields Gallery is situated at Newfields Farm in the heart of the Churnet Valley, where Roger Sutton and Gail Keep live and work.
Roger carves English oak, specialising in plant form and the magic of foliage. His intricately carved panels and decorative pieces include wall mounted items and larger panels for use in interior decoration. As well as the oak carvings, Newfields offers a range of finely detailed relief ceramics. On display in the Newfields Gallery are the exquisite range of small boxes, plaques and jewellery.
Newfields Gallery does not have a further web site, to see the work on sale please visit the gallery. Here we are able to show a small selection of the items they have on sale in the gallery. To give an idea of the scale and price of the items pictured:
Hand carved oak dog is £280, 19sq cm and hangs on the wall.
Ceramic designs: Pendants £14, Brooches £9  at 4cm.
Carved oak wall plaque of mushrooms is £21 with a 10cm circumference.
Visitors to the gallery are welcome most days, it is advisable to telephone first to check. 01538 266334
Newfields Gallery
Newfields Farm, Foxt
ST10 2HS
01538 266334